Along with our partners A Class Worldwide, member of the FERCAM group, we operate an LCL service from Ravenna, Italy to Limassol, Cyprus. Through our partners extensive road freight network we cover collection from almost all European countries.
From our web portal , are able to find instant shipping rates from a range of European countries up to Limassol, Cyprus.
Get rates from the following countries to Cyprus:
Austria
Belgium
Bulgaria
Croatia
Denmark
Estonia
Finland
France
Germany
Latvia
Lithuania
Luxemburg
Norway
Netherlands
Ireland
Poland
Portugal
Czech Republic
Slovakia
Romania
Serbia
Slovenia
Spain
Sweden
Switzerland
Hungary
United Kingdom
You are also able to find rates for courier shipments for goods up to 500gs in our portal.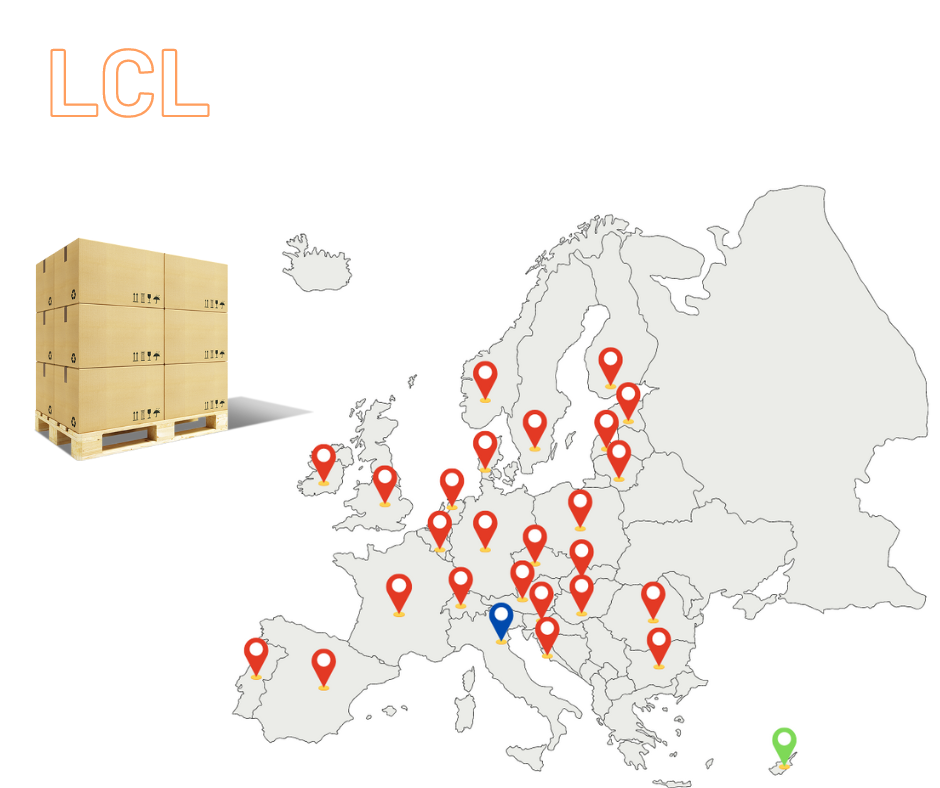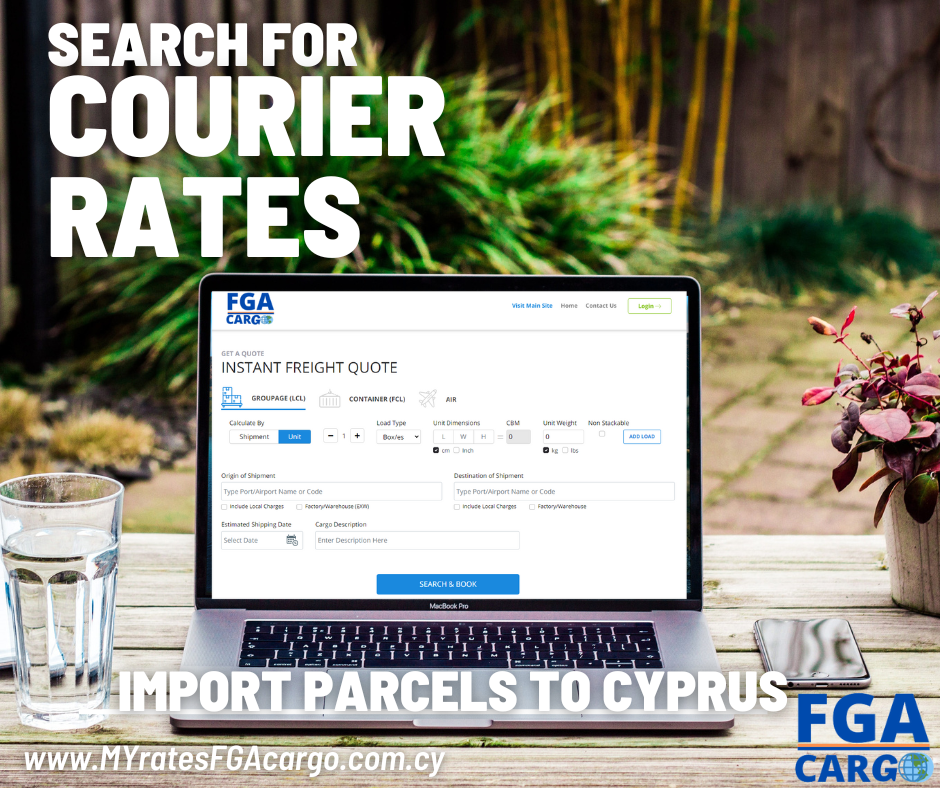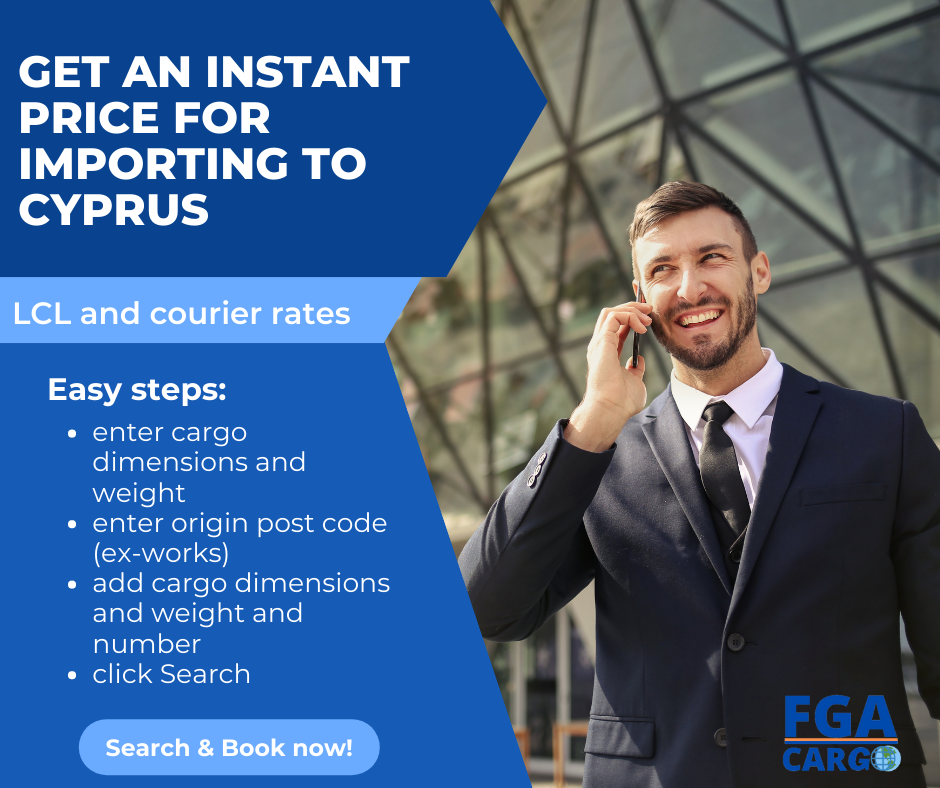 | | | | | | | |
| --- | --- | --- | --- | --- | --- | --- |
|   | COUNTRY | PICK UPS PER WEEK | TRANSIT TIME TO BOLOGNA | TIME IN WAREHOUSE | PORT TO PORT | TOTAL TRANSIT TIME TO CYPRUS |
| 1 | AUSTRIA | TWICE PER WEEK | 3 | 3 | 4 | 10 |
| 2 | BELGIUM | TWICE PER WEEK | 3 | 3 | 4 | 10 |
| 3 | BULGARIA | TWICE PER WEEK | 7 | 3 | 4 | 14 |
| 4 | CROATIA | TWICE PER WEEK | 3 | 3 | 4 | 10 |
| 5 | DENMARK | TWICE PER WEEK | 5 | 3 | 4 | 12 |
| 6 | ESTONIA | TWICE PER WEEK | 7 | 3 | 4 | 14 |
| 7 | FINLAND | TWICE PER WEEK | 7 | 3 | 4 | 14 |
| 8 | FRANCE | TWICE PER WEEK | 5 | 3 | 4 | 12 |
| 9 | GERMANY | TWICE PER WEEK | 5 | 3 | 4 | 12 |
| 10 | LATVIA | TWICE PER WEEK | 7 | 3 | 4 | 14 |
| 11 | LITHUANIA | TWICE PER WEEK | 7 | 3 | 4 | 14 |
| 12 | LUXEMBURG | TWICE PER WEEK | 3 | 3 | 4 | 10 |
| 13 | NORWAY | TWICE PER WEEK | 8 | 3 | 4 | 15 |
| 14 | NETHERLANDS | TWICE PER WEEK | 3 | 3 | 4 | 10 |
| 15 | IRELAND | TWICE PER WEEK | 10 | 3 | 4 | 17 |
| 16 | POLAND | TWICE PER WEEK | 5 | 3 | 4 | 12 |
| 17 | PORTUGAL | TWICE PER WEEK | 5 | 3 | 4 | 12 |
| 18 | CZECH REPUBLIC | TWICE PER WEEK | 3 | 3 | 4 | 10 |
| 19 | SLOVAKIA | TWICE PER WEEK | 2 | 3 | 4 | 9 |
| 20 | ROMANIA | TWICE PER WEEK | 7 | 3 | 4 | 14 |
| 21 | SERBIA | TWICE PER WEEK | 5 | 3 | 4 | 12 |
| 22 | SLOVENIA | TWICE PER WEEK | 5 | 3 | 4 | 12 |
| 23 | SPAIN | TWICE PER WEEK | 5 | 3 | 4 | 12 |
| 24 | SWEDEN | TWICE PER WEEK | 8 | 3 | 4 | 15 |
| 25 | SWITZERLAND | TWICE PER WEEK | 3 | 3 | 4 | 10 |
| 26 | HUNGARY | TWICE PER WEEK | 3 | 3 | 4 | 10 |
| 27 | UNITED KINGDOM | TWICE PER WEEK | 10 | 3 | 4 | 17 |